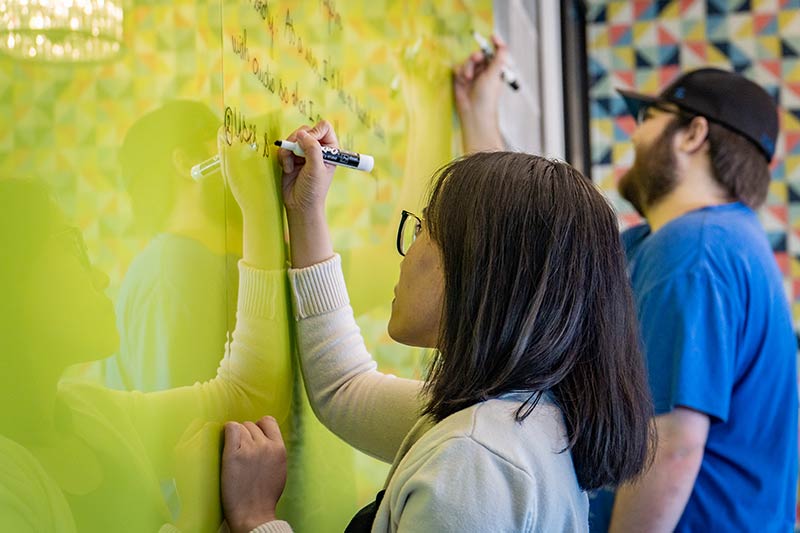 Redhawk Startup Fellowship
Hands-on startup experience.
Expand your knowledge beyond the classroom! Become an innovative tech sales fellow for your chance at paid fellowship opportunities.
Program Info
The Redhawk Startup Fellowship program offers hands-on tech sales experience to select students from a diverse set of backgrounds and majors. Throughout the academic year, students will complete a world-class paid fellowship, where they will gain on-the-job skills while working closely with local startups. Since its inception, the Redhawk Startup Fellowship program has resulted in full-time employment offers to 100% of eligible participating students.
Our next cohort kicks off in October!
Applications are open!
What is in it for you?
Paid fellowship

Internship credit

Management opportunities as Team Lead Fellow

Hands-on experience at high-growth startups

Mentorship from seasoned entrepreneurs

Exclusive networking opportunities

Codefi membership

Training and experience in data source and sales cadence software

Real life resumé skills
The Impact of the Startup Fellowship on our Alums
The Redhawk Startup Fellowship program was established by Codefi, the innovation hub in downtown Cape Girardeau, in partnership with Southeast Missouri State University to offer opportunities for Southeast students to gain theoretical understanding, practical knowledge, and leadership skills needed to scale startups.
Application Info
Innovative Tech Sales Fellowship
Are you ready for your work to be purpose-driven? What if you could help aspiring entrepreneurs and founders make the connections and partnerships needed to grow their startup, while also learning valuable work skills and being trained on the latest business software programs? Codefi is looking for talented, ambitious, and innovative students to participate in our paid Redhawk Startup Fellowship Program.
Responsibilities
Identify potential revenue-generating opportunities for partnerships, sales, collaborations
Use sales prospecting, intelligence, and CRM software to communicate with prospects and move them into the pipeline
You will communicate directly with business owners, director-level, VP-level, and C-level executives and strategically pique their interest in the startup you are working with
Book meetings by emailing, going in-person, leveraging social media, and calling prospects, and take an active role in facilitating the next step in working together
Compose and send targeted campaigns to a large number of prospects
Send personalized messages via email, LinkedIn, and other mediums
Work on various projects at all levels in an atmosphere of teamwork and open communication
Take part in continuous training sessions with your mentor and fellowship team to hone sales and communication skills
Qualifications
Team player with an emphasis on collaboration
Highly organized mindset
Exemplary written and verbal communication skills
A positive, self-driven, "no excuses" attitude
Curious, creative, and tenacious with the ability to think outside the box to resolve problems
Coachability and a strong desire to become excellent in revenue generation
Interview Days
September 20-21, 2022 at Codefi
338 Broadway, 6th Floor
Cape Girardeau, MO
Enrollment includes a hand-selection of outstanding Southeast Missouri State University students from any discipline or major. Students who apply will sign up for an interview with our selection committee.
Timeline
September 13
Application Deadline
Complete the application process
September 20-21
Interview Days
Pitch your business talents and skills to our selection committee
September 23
Decision Date
Selection committee selects the next cohort of fellows
October 2022 - May 2023
Learn and Work
Complete paid fellowship
Guidelines
Format
After applying, our team will review your application and resume and then send email communication to set up an interview with the selection committee.
Student Eligibility
The Redhawk Startup Fellowship is open to all Southeast Missouri State University students. All majors and areas of study are welcome.
Selection Committee
A selection committee made out of seasoned startup founders and Codefi team members will interview and select the next cohort of Redhawk Startup Fellows.
Interview Day Schedule
Entrants will be assigned a time slot for their interview during one of the two available interview days. A Doodle Poll will be sent to all entrants to select a convenient time slot, on a first-come, first-served basis.
Program Acceptance
All applicants interviewed will receive communication via email regarding acceptance into the Redhawk Startup Fellowship program, along with the next steps by Monday, September 26th.