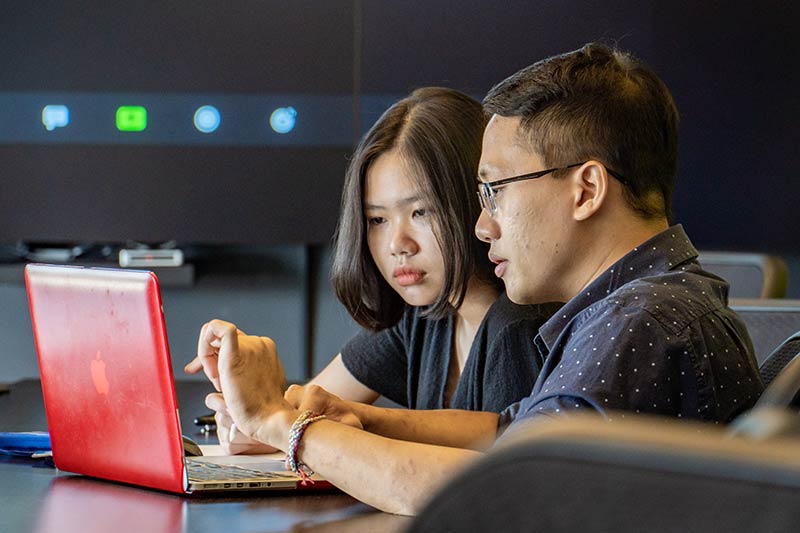 Redhawk Startup Fellowship
Hands-on startup experience.
Expand your knowledge beyond the classroom! Become a Fellow for your chance at $6000 in paid internship and fellowship opportunities.
The Redhawk Startup Fellowship program offers hands-on experience in startup processes to 15 students from a diverse set of backgrounds and any major. Over one (1) full academic year, select students will complete a paid internship, followed by a world-class paid fellowship, where they will gain on-the-job skills while working closely with local startups. Since its inception, the Redhawk Startup Fellowship program has resulted in full-time employment offers to 100% of eligible participating students.
Our next cohort kicks off in September!
Application Waitlist is Open
The Redhawk Startup Fellowship program was established by Codefi, the innovation hub in downtown Cape Girardeau, in partnership with Southeast Missouri State University to offer opportunities for Southeast students to gain the theoretical understanding, practical knowledge, and leadership skills needed to scale startups.
What is in it for you?
$6000 annual stipend (disbursed biweekly)
Internship credit (optional)
Hands-on experience at high-growth startups
Mentorship from seasoned entrepreneurs
Exclusive networking opportunities
Codefi membership
The Impact of the Startup Fellowship on our Alums
Application Info
Are you up for the challenge? Join our 2022 cohort.
Enrollment is limited to fifteen (15) outstanding Southeast Missouri State University students from any discipline or major. The application period runs through February 6, 2022. Students who apply are asked to analyze a sample case study and pitch their solution in front of the selection committee. Pitch Days will be held on February 10 and 11, 2022. Startup Fellows are announced February 16.
Pitch Day
February 10 and 11 • 7pm
at Codefi
338 Broadway, 6th Floor
Cape Girardeau, MO
Apply
Complete the application process
Analyze
Pitch your solution to a selection committee
Learn
Complete paid internship
Work
Complete paid fellowship
Redhawk Startup Fellowship Application Waitlist
Guidelines
Format
After applying, you will receive a case study via email encompassing real issues being experienced by a real company. Your mission, should you choose to accept it, is to propose a strategy that would help the company overcome these issues. Your task is to convince the selection committee that your solution is feasible. To simulate this activity, we would like for you to analyze the case and present it to our selection committee.
Student Eligibility
The Redhawk Startup Fellowship is open to all Southeast Missouri State University students.
Composition
Students must apply and present individually.
Selection Committee
A selection committee made out of seasoned startup founders and professors will be formed with the purpose of evaluating the Pitch Day entrants and selecting the next cohort of Redhawk Startup Fellows.
Pitch Day Schedule
Entrants will be assigned a time slot for their pitch during one of the two available pitch days. A Doodle Poll will be sent to all entrants to select a convenient time slot, on a first-come, first-served basis.
Presentation Time
Each presentation should be in PowerPoint or Google Slides format, and last no more than five (5) minutes.
Question & Answer Session
Following the completion of the pitch, you will be allotted five (5) minutes to answer questions from the selection committee.
Presentation Room
A presentation room will be provided for Pitch Day. The room will be setup with:

One computer with software, including PowerPoint.
One data projector.
Possibly a presentation clicker.
A timekeeper who will indicate when there are three (3) minutes and one (1) minute remaining in the presentation time. When the 5 minutes are up, the timekeeper will end the presentation whether or not it is finished.
Timeline
November 8
Applications
Open
February 6
11:59pm
Application
Deadline
February 10-11
7-10pm
Pitch Days
February 16
Fellows
Announced
February 18
5-10pm
Informational Meetings with Startups
February 23
Matching Announcement
February 28
Program Begins
Resources
Five Basic Steps to Solving a Case Study:
Identify the Primary Concern
Situation Analysis
Identify Potential Alternatives
Recommend a Solution
Implement Your Plan
Download Case Study Materials
Tips for a Successful Pitch
Make it Human-Centered
Get out there and talk to people! Secondary research is important. Where possible, your ideas should also be informed by robust primary research. The selection committee will be impressed when you are able to cite conversations with people who are "living the problem."
Keep it Laser-Focused
When solving a case study, there are typically a number of exciting possible solutions. We've found it is most effective to recommend the one solution you think is most compelling. Then, tell the audience why you chose it, and build it out in detail. The audience will be much more impressed by a single, deep and well-studied solution than a set of broad and shallow ones.
Make it Beautiful
The value of an aesthetically compelling presentation cannot be overstated. This will keep your audience alert and engaged. Straightforward, crisp slides with simple design elements will go a long way. If you want to take it one step further, don't be afraid to get creative by adding illustrations and vivid imagery.
Know Your Numbers
When it comes to Q&A time, it's always satisfying to respond to a judge's doubting question with, "Yes, and we have data to support that." If you're going to whip out that reply, make sure you've done your homework. While only key numbers should be presented, an appendix is a helpful add-on for all the numerical content that you may want to pull out of your arsenal during follow-up questioning. Make sure you practice speaking confidently about how you arrived at those final numbers as well.
Make it Actionable
Ultimately, selection committees want solutions that feel tangible – ones they can execute readily, with existing budget, and feel excited to promote to internal stakeholders. Craft a clear outline for how you'll launch your idea, what money you'll leverage, and what existing resources you can draw on. If you want to add some glitz, you can always build out a roadmap for how your solution might evolve and grow as you scale (three, five, or ten years down the line).
Tell a Story
Business jargon and charts might seem impressive, but if the judges aren't hooked they may miss the genius of your solution. Storytelling can be a critical lever for standing out and connecting with your audience. Share emotional and powerful stories of personas or real people you spoke with to demonstrate how this solution will transform the lives of customers and stakeholders. Coming full circle to our first tip: speaking with people out in the world will enable you to deliver compelling human stories.