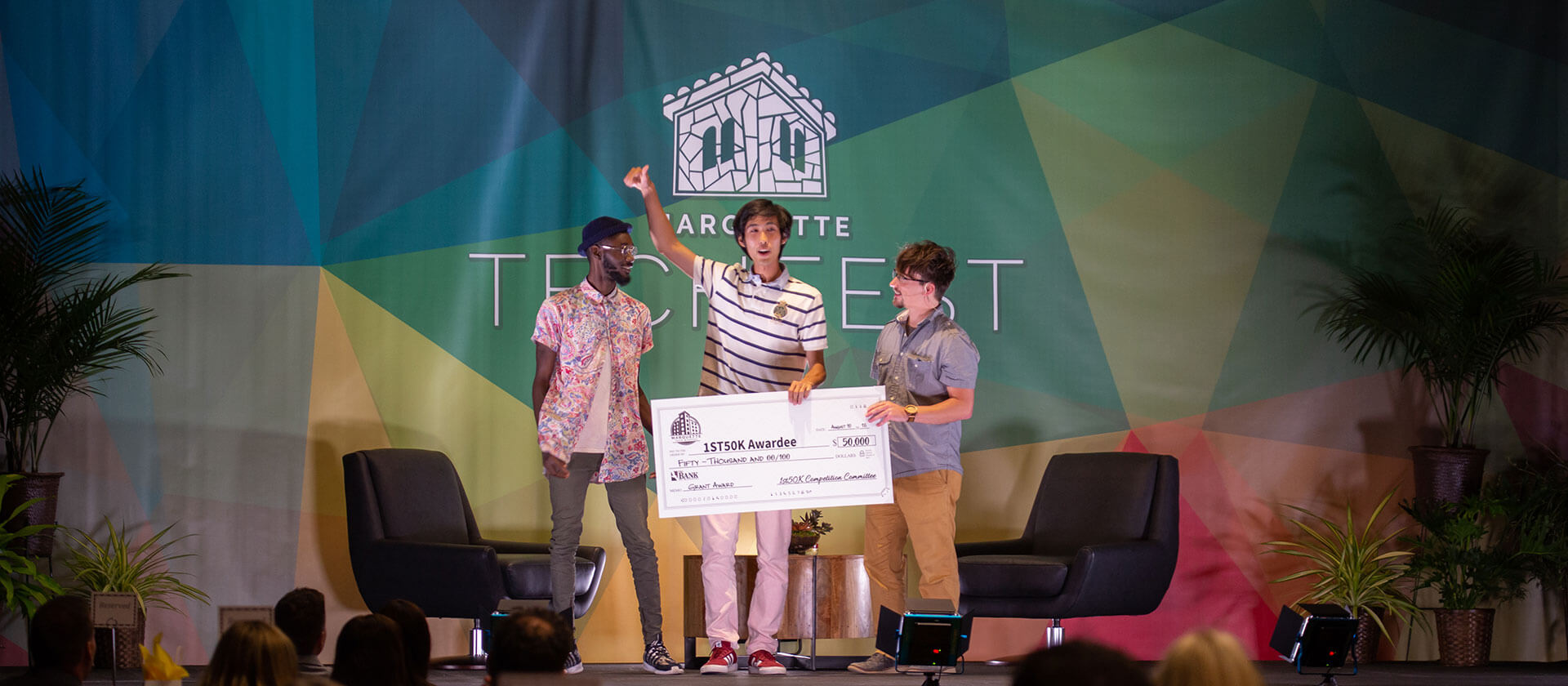 Building a Technology Sector (Part 1): Startups
October 30, 2018
This writeup is the first of a 3-part series expanding on the Building a Technology Sector1 article.
Building a Technology Sector is hard work. But we're adamant that it's time we all Shift it into High Gear2. One way we do that is by developing an ecosystem that is conducive to startup success. For this region, it means overcoming the "what's in it for me" mentality, being passionately displeased with the status quo, and not accepting agendas just because that's how they've always been done. Startups break things. Innovation is disruptive. But startups are the driving force of economic development and as we build these companies, the entire economic pie will get larger—for everyone.
Tangibly, that means sharing in resources and information, increasing access to capital, and offering mentorship and support.
Sharing Resources and Information
Collaboration over competition. Codefi launched in late 2014 as the area's first coworking space with a larger vision for economic growth: to be a catalyst to increase the formation and growth of technology-based companies in our region. A coworking space is a way to get driven and like-minded people in the same room, and a way to share resources that gives way for in-demand services and high-quality amenities to be afforded by all. And the sharing of information creates a disbursement of knowledge that drastically increases innovations. This is accomplished by having a hub for like-minded people to be working alongside each other—see Part 3 of this series. When you want to attract, develop, and retain talent and innovative companies to the area, the amenities3 of the Tech District are key. But those startups also need mentoring and support and access to capital.
Access to Capital
In 2015, we created Traverse Ventures4, a formative-stage fund to help entrepreneurs gain access to seed and early-stage capital and resources. And shortly after, we launched 1ST50K5, a startup competition that awards $50,000 non-dilutive cash grants to entrepreneurs with innovative companies to establish or locate their businesses in Cape Girardeau.
Startups aren't just small corporations. They don't have access to traditional debt financing, especially innovative companies, because they are pretty risky. What they have to do is go out and get private debt (such as a loan from family & friends), equity financing, or grant funding (from the government or through competitions) when that is available. Fortunately, we have a small group of people that have been supporting the startups that we have, at least for as small of a community that we are. And the Tech District here wouldn't have made nearly the progress without the support of organizations, such as the Missouri Technology Corporation6, that allow us to fund programs like 1ST50K.
We've awarded just over $250,000 to startups through 1ST50K since 2015 and those companies have gone on to create over 30 jobs and generate $3 million+ in revenue. But that's just touching the service of startup activity here.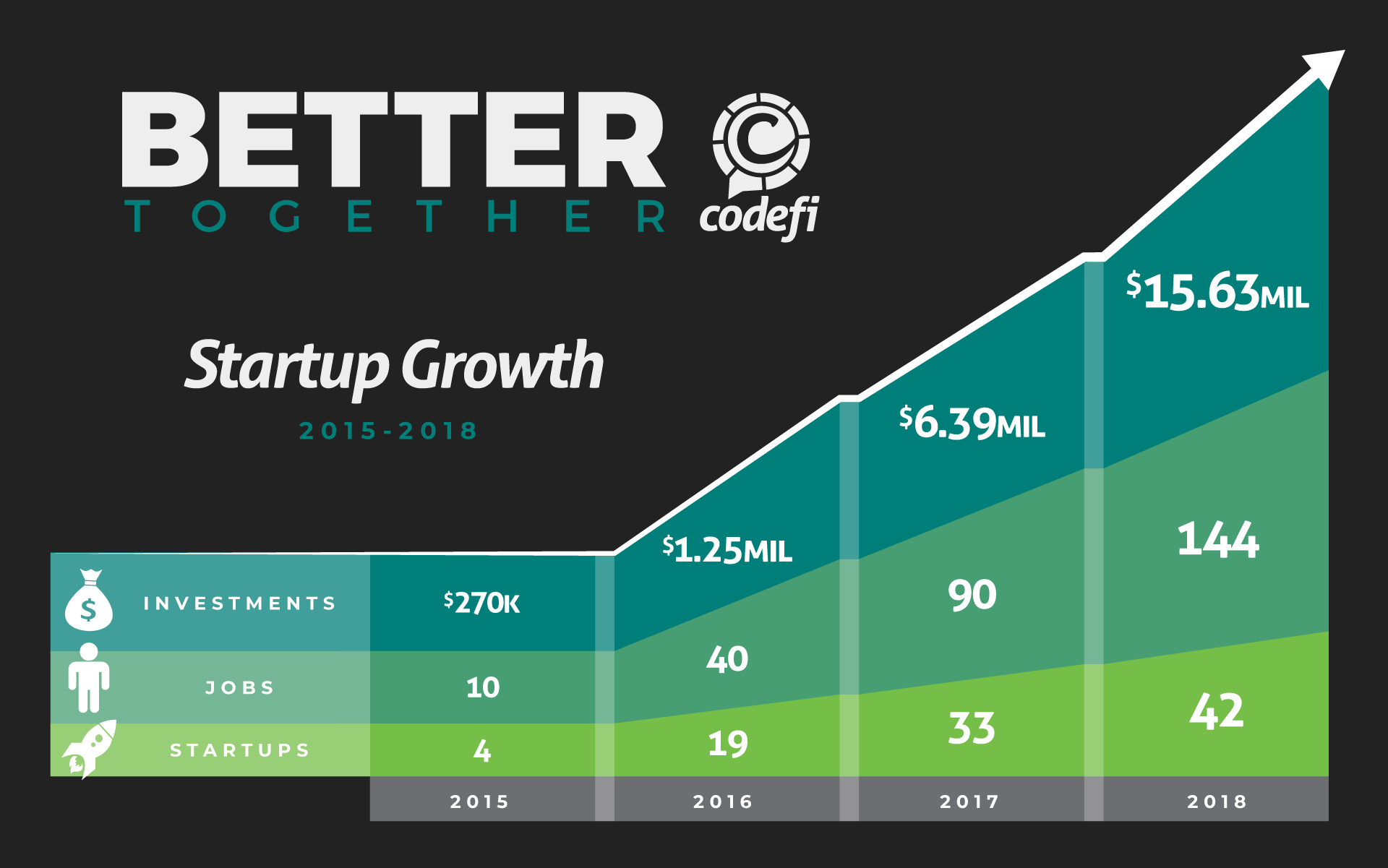 Startups are being both attracted to and launched here. It's up to us and you, the community at large, to give them a reason to stay. The jobs they are creating are generally high-wage occupations, which gets distributed back out into our community. And you can see the confidence has grown, as the investments into these startups have tripled nearly every year since our inception. So, who are these startups creating this impact? We're happy to share some examples…
Nexspring7 - A fintech startup that developed a proprietary online mortgage platform. After raising $1.5 million in 2017, the company jumped to $8 million this year. We're now celebrating their development team growth, from two to ten and increasing, as they expand from a small office in Codefi to over 15,000 square feet.
carGO8 - On-demand rides, restaurant, food, alcohol, and courier delivery services. Launched in 2017, the company has raised nearly $2 million, grown from a team of two to twelve, surpassed 100,000 rides and deliveries, generated nearly $1,000,000 in revenue for local restaurants, and paid drivers nearly $800,000.
Duncan Innovations - Starting in a small office in Codefi with a couple of developers in 2015, the company has grown and acquired their way to nearly 20 employees occupying more than 2,300 square feet of office space.
Morning Star9 - The company joined Codefi in mid-2016 as a one-woman show. Shortly after winning the 1ST50K startup competition, they grew to occupy nearly 3,000 square feet in the Marquette Tower with over 15 employees.
Sho.ai10 - From Cape Girardeau to L.A. and back to Cape Girardeau, this boomerang crew is creating the new era for branding. A 1ST50K finalist, their digital brand guidelines empower teams to create and deliver consistent brand experiences at scale.
T-var EdTech11 and Homecooked12 - If you attended the 3rd annual Marquette Techfest Gala in August, you'd recognize these two teams as the most recent 1ST50K winners. T-var has developed a device that teaches children classified as "non-readers" how to read. Homecooked is a social dining platform that enables anyone to participate in dinner events at the homes of local chefs.
Mentorship and Support
We're fortunate to have some wildly successful entrepreneurs as part of the community. It's critical that those who have been there, done that, invest back into the startup ecosystem. Mentorship can also come in the form of working with and alongside like-minded people who are in the same startup phase. And while the Tech District is known for startups and tech businesses, there are plenty of established and traditional service-based companies here (over 50% of the nearly 100 companies represented at Codefi), as well, that provide strategic value, offer pro-bono services, or just benefit from being around this type of atmosphere.
Building a Technology Sector is hard work. But we're adamant that it's time we all shift it into high gear. The impact here has been accomplished by a relatively small group of individuals. If we're going to make a lasting impact on our region, we need your help. Do any of these statements resonate with you?
"I'm an entrepreneur or tech-driven person, and want to be a part of the startup community."
"I'd like to invest in the startups launching and growing in our region."
"I can offer professional pro-bono services to startups to help them grow."
"My organization would like to support a sector specific startup competition."
If so, can we count you in?13