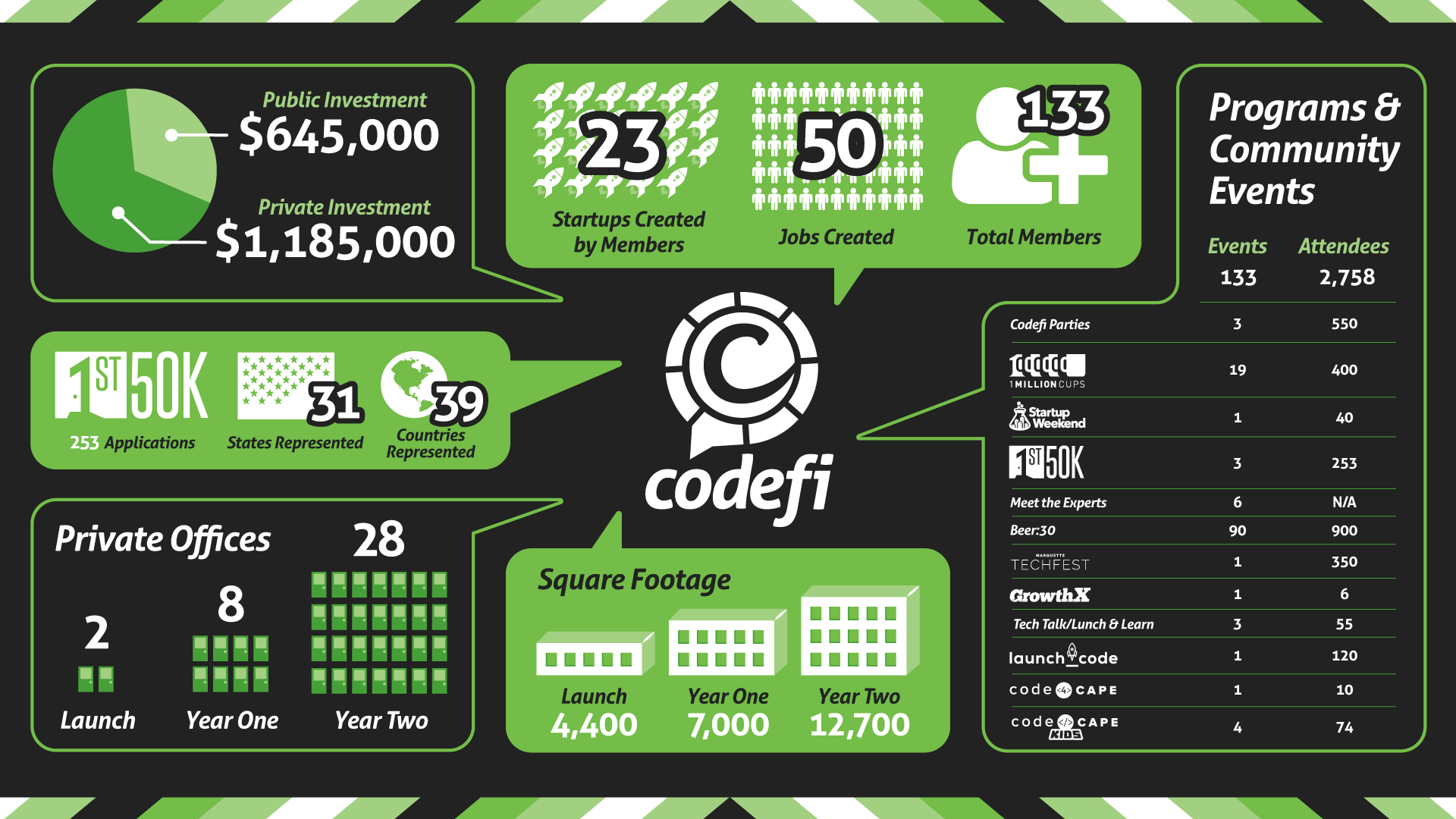 Codefi By the Numbers
November 3, 2016
Two years.
Codefi opened its doors just two short years ago. The founders had a vision and the community has rallied behind it as the momentum continues to grow. We wanted to share with you some of the numbers and impact we've seen. The exciting news? We're just getting started.
We joke around here about writing a book with how much has happened and changed. We'll save you the novel and give you the short story.
We wanted an innovative and collaborative workspace for like-minded people: entrepreneurs, startups, developers, designers, and technology enthusiasts.
We started off as just an open floor concept coworking space with 4,400 square feet. Maybe the most shocking stat is that we didn't even have a ping pong table. By year one, we had grown to over 7,000 square feet and private offices around the historic Federal Building continued to fill with Codefi members. We started to burst at the seams, and as our vision to be the leader in entrepreneurial development and technology advancement for the area started to come to fruition, we started looking for ways to support that growth. Cue the announcement of the Marquette Tech District and Codefi calling the historic Marquette Tower its new home. The expansion brought the footprint to almost 13,000 square feet of private offices, conference rooms, and open coworking space for the community.
But as you know, Codefi is so much more than just a work space.
There have been over 130 programs and events held at Codefi with over 2,700 attendees - everything from education to competitions to mentorship. Oh, and parties. You all know we like to party.
We've seen kids' classes in computer programming and the announcement of LaunchCode as initiatives to help further programming education and technology in Southeast Missouri through Code Cape.
This year we hosted the first annual Marquette Tech Fest, where over 350 people attended, celebrating the area's tech and entrepreneurial community.
One of the most notable programs through Codefi has been the 1ST50K Startup Competition, where we grant $50,000 non-dilutive capital to innovative, early-stage ventures that base their operations in Cape Girardeau. After three rounds, we've seen over 250 applications that represent 31 states across the U.S. and 39 countries around the world. Four companies have been funded so far and we continually work with them to help them with their biggest obstacles.
The resounding takeaway from this competition is that we CAN attract talented people and innovative companies to Cape Girardeau.
The thing is, you don't have to look outside of Cape to find entrepreneurial and startup activity. The community within Codefi is full of rock stars.
Of the over 130 members, there have been 23 startups launched. Startups like CarGO, bringing on-demand ride-sharing to Cape Girardeau. Then there is RoomHere, the result of collaboration with the city and local software developers that met through Codefi, creating a much needed solution for renters searching for vacant property listings.
These startups have led to 50 jobs created. Announcements from organizations like the Missouri Technology Corporation and the Delta Regional Authority has brought $645,000 of public investment to support programs and developments. Even more impressive has been the $1,185,000 private investment raised.
Those numbers are big to some. For us, it just means we have much more work to do.