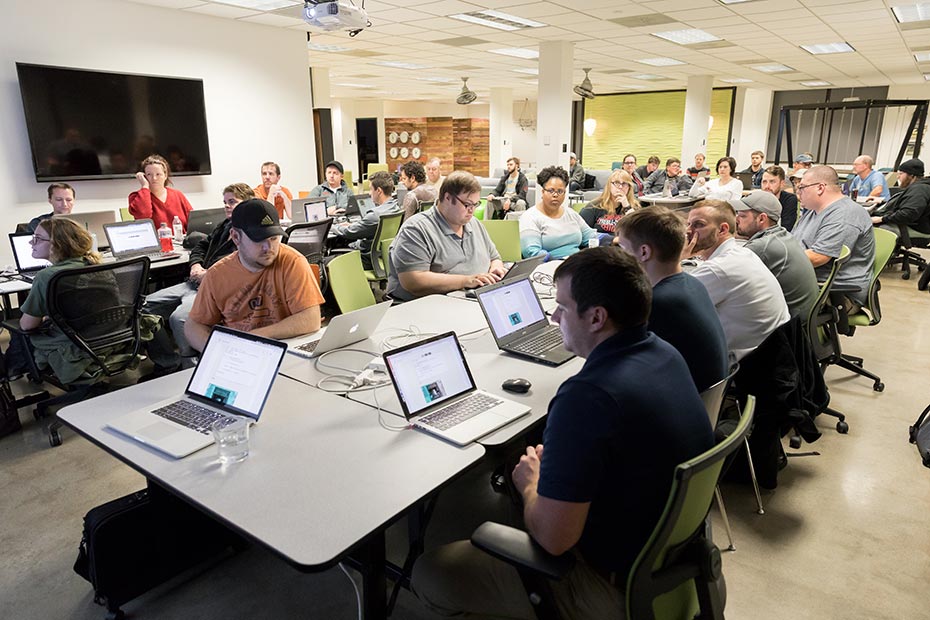 Delta Regional Authority Invests $110,555 to Increase Adult Computer Programming Training Throughout the Delta
October 11, 2017
The Delta Regional Authority[1] recently announced a $110,555 investment to the Marquette Tech District Foundation.[2] The investment will allow the Foundation to expand the training that teaches adults how to become computer programmers. The program's mission is to provide opportunities for underserved individuals in rural communities throughout the Delta to transition to high-wage, computer programming jobs. The investment has a dollar-for-dollar match from local supporters out of Cape Girardeau Missouri.
"Southeast Missouri benefits from the Delta Regional Authority's ability to deliver economic development and infrastructure investments that provide substantial improvements for rural residents and communities," Missouri Governor Eric Greitens[3] said.
The pilot course that will provide the training is called Code Labs One[4] and will be hosted in Cape Girardeau. The program is a rigorous 20-week course designed to introduce participants to computer programming, using the popular programming language, Ruby.[5] Developers can build virtually anything related to computer software with Ruby: web applications, APIs, mobile/desktop applications, client-side applications, mobile/desktop games, etc. Popular sites built with Ruby include Twitter,[6] Airbnb,[7] Hulu,[8] The Weather Channel,[9] Shopify,[10] Square,[11] and Groupon.[12]
All students will complete the same core curriculum during Units 1 and 2, which is taught by local professional software developers. In Unit 3, students will get the chance to learn in-demand skills as they develop a project under the guidance of local employers. Having local experts lead and support the program is what sets it apart from other solutions, according to Dr. James Stapleton,[13] Executive Director of The Foundation and co-founder of Codefi. "For students, the last month of the program gives them real-world experiences compared to traditional education methods. And employers get a chance to build relationships with students and see them in working conditions that help make a better informed hiring decision." After the pilot course is complete, the program will be offered to other rural areas throughout the entire Delta region, an area that makes up 252 counties from Ste. Genevieve, Missouri to New Orleans, Louisiana.
To be considered for the pilot course, individuals fill out an online application form and then complete a critical thinking assessment. The test gauges the logic and reasoning skills of the individual, which helps determine if computer programming would be a good fit for them. No programming experience is required to take the course.
Individuals can start their application at http://www.marquettetechinstitute.org/codelabsone.html.[14]
"What keeps many from starting down the path of computer programming is that they think they need an in-depth knowledge of high-level math. And that couldn't be farther from the truth," said Chris Carnell,[15] program director for The Foundation and co-founder of Codefi. "Many of today's software applications can be built with individuals that just have strong problem-solving skills."
The deadline to apply for the pilot course is October 27 and the course begins November 6. Classes are Monday and Thursday evenings from 5:30 - 8:30 pm, with breaks for Thanksgiving, Christmas, and New Year's. Students are recommended to prepare for at least 10-20 hours outside of class that they can dedicate to the course for the best chance of success.
Past participants from adult computer programming courses offered through Codefi have come from all walks of life. Ages have ranged from 18 to 65-plus, education from GEDs to Masters, and occupations from unemployed to factory workers to stay-at-home moms. Reasons for taking the class have mostly been individuals looking to jumpstart new careers in technology, but some are gaining skills to grow in their current positions or have ideas they'd like to build themselves. Whatever the reason, it's clear computer programming is a valued skill to have now and in the future.
According to The Bureau of Labor Statistics,[16] the average annual mean wage for individuals with computer programming skills in Southeast Missouri and Cape Girardeau combined is around $62,000; compared to the annual mean wage of all other occupations at $35,000. For Missouri, those numbers are $85,000 and $45,000, respectively. Expected growth in the industry is projected at more than ten percent through 2024 in Missouri, so individuals should have no problem finding employment. The numbers are even greater throughout the rest of the nation. The annual mean wage for individuals with computer programming skills across the U.S. is around $94,000; compared to the annual mean wage of all other occupations at under $50,000. The expected growth in the industry is projected at more than twelve percent through 2024.
The reason organizations like The Delta Regional Authority are investing to support training workers for employment in the 21st century is that the area is severely lacking compared to national averages.
ALL Delta States' percentage of developers among total workers are less than the national average; 2.4% compared to 0.89%.
The combine job growth of Delta states for employment in this area is almost 2% below the national average; 12.44% compared to 10.51%.
Six out of eight Delta Regions' percentage of developers among total works are even less than their state averages.
If you remove metropolitan areas (Little Rock, AR; Memphis, TN; Jackson, MS; Baton Rouge, LA, and New Orleans, LA) from the Delta Region statistics, the percentage of developers among total workers falls to a staggering 0.21%, less than one-tenth the national average.

For Missouri and Southeast Missouri specifically, the state almost mirrors national averages at 2.37%. Unfortunately, it is propped up by bigger cities like St. Louis and Kansas City, meaning areas like Southeast Missouri and Cape Girardeau combined are at a staggering 0.40%.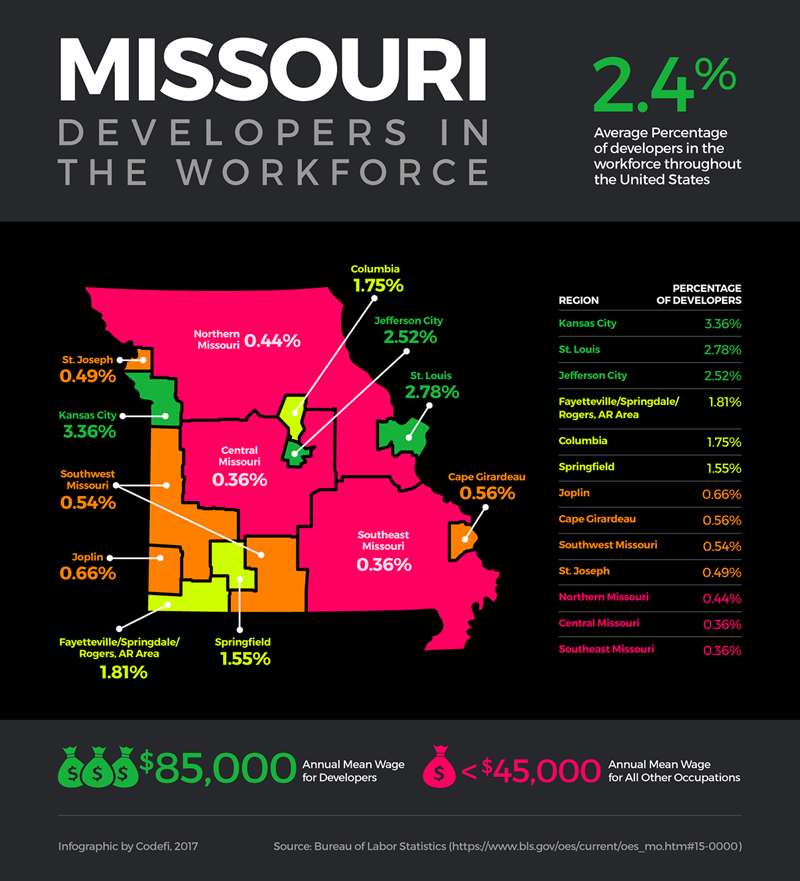 "Obviously, the goal is to increase technical talent in our region with the DRA investment," says Stapleton. "Not only will the participants have new skills that will give them opportunities for high-wage jobs, but the growth in talent pool will allow Missouri to attract innovative companies to the region as well. It's a win-win for everyone."