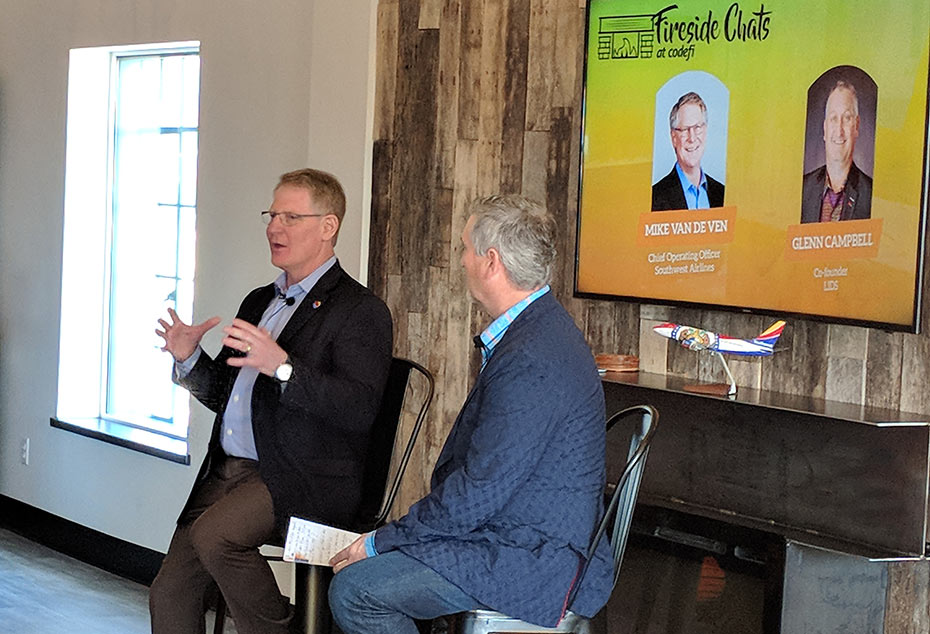 Fireside Chat with Mike Van de Ven of Southwest Airlines
March 12, 2018
It's not every day that the Chief Operating Officer of a $20 billion company with 44 consecutive years of profitability walks into your office to share his story and answer your questions. But here we are. And this is one of the perks we have come to expect from Codefi.
For those Debbie Downers among you who are quick to dismiss Cape Girardeau as a dead end that hasn't produced anybody or anything of note, I present Mike Van de Ven, COO of Southwest Airlines since 1993. What has Mike Van de Ven done for Southwest, you ask? Probably the more appropriate question is what hasn't Mike Van de Ven done? This Cape Girardeau native provides leadership to Southwest in the areas of Air Operations, Technical Operations, Network Operations Control, Labor Relations, Safety and Security, Customer Support and Services, Operational Strategy and Performance, and Customer Services, which includes the Company's President's Council and Hospitality efforts. Whoa. (Say that in Keanu Reeves' voice for additional awe.) That's a lot of departments to head up, especially when you consider that Southwest has 55,000 employees and services 100 million customers annually. Just look at all those people Mike takes care of! But, he still found time in his day to come here, to Codefi, and share his knowledge with us on Thursday, March 8. What a guy!
So how do you build the kind of customer service acumen that's on par with Southwest? We all know at least one person with an overwhelmingly positive story of customer service or satisfaction while flying Southwest, and Van de Ven is a major contributor to that culture. When Mike spoke to us, he let us in on one of his secrets to garnering a customer-focused reputation: hire by attitude. Is education important? Sure. Experience? Absolutely. But when a customer is in a jam, it's that helpful, positive attitude that will not only make the biggest difference in the moment, but also be remembered for a long time. It's a philosophy often overlooked, but so important.
Mike was asked why he is still at Southwest after so many successful years there. Why pass up other opportunities? He said he is proud of what he and Southwest have accomplished together, and that he and his family stand for everything that the company stands for: a simple, customer-focused philosophy that breaks the mold of its competitors.
Breaking the mold. Hmm. That sounds familiar, kind of like what Codefi does in promoting ideas like collaboration over competition and community over agenda. Not only has breaking the mold earned Southwest its unprecedented customer satisfaction, it also sets them apart from their competition. In an industry where hefty fees for checked luggage are the norm, bags fly free with Southwest?! To quote Max von Sydow from Conan the Barbarian, if I may, "What daring! What outrageousness! What insolence! What arrogance! I salute you." Southwest tried something different, something out there, and it worked. It's inspiring, isn't it?
In addition to Mike Van de Ven's Fireside Chat, Codefi also hosted Gabe Lozano, Co-founder and Chief Executive Officer of the native advertising and publishing platform, LockerDome, on Friday, April 6, 2018. LockerDome has raised over $18 million, is one of St. Louis' fastest-growing startups, and counts Square co-founder Jim McKelvey among its investors. The chat was exclusive to Codefi members and their guests, so if you're not a member (which we highly recommend, by the way), what are you waiting for? Still not convinced? Then I present the coup de grâce: light hors d'oeuvres and drinks were provided. You won't want to miss out on another opportunity like this.