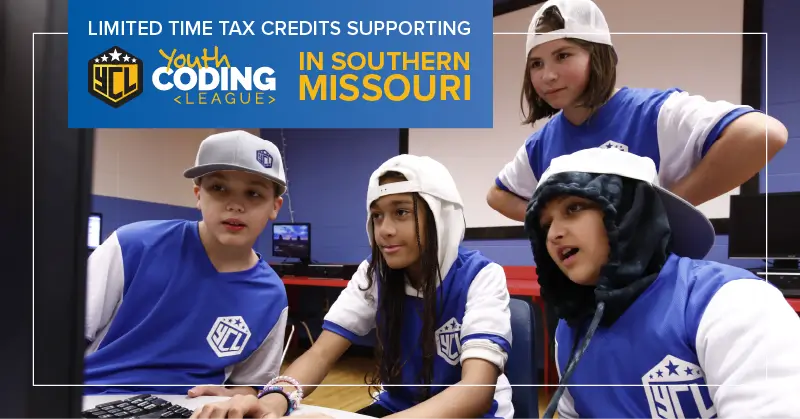 Limited Time to Receive Tax Credit for Contributions Supporting Expansion of Youth Coding League in Southern Missouri
September 15, 2023
Thanks to a recent award from the Missouri Department of Economic Development,1 donors to the Codefi Foundation on Rural Innovation can support the expansion of the Youth Coding League in Missouri while earning tax credits. This funding will create 20 new YCL teams throughout southern Missouri, training and paying 20 teachers and staff members, paying a team of scorers who assist coaches by evaluating their teams' coding projects, and bring coding and computer skills to 300 5th-8th graders over the next two years.
That's 300 kids who will get to see what opportunities coding and computer science can open up for them, have a chance to compete as a team and receive positive recognition from their community, 20 teachers and staff who will see hundreds of lightbulbs go on over coders' heads as they "get" a new concept and realize they can do hard things, countless community and family members with a front row seat to growing confidence in a new skill set in their YCL coders.
We're Codefi, so we aren't just asking—we're doing. Once these funds are raised through the DED's Youth Opportunities Program, we're matching the support by covering $150,000 in awards and YCL jerseys, hats, and gear for coders.
A quick note on how this tax-credit-for-contribution program works: a tax credit is a dollar-for-dollar reduction in taxes that can be deducted directly from taxes owed. Contributions made to the Youth Coding League ensures you get 50% back when your Missouri tax return is filed, and additionally, 100% of the contribution can be claimed on your federa income tax return as a charitable donation. The math works out - donors receive a 50% tax credit for contributions, and youth coding opportunities in rural, underresourced areas get funded. Tax credits are limited, and we're working to raise funds by the end of the year.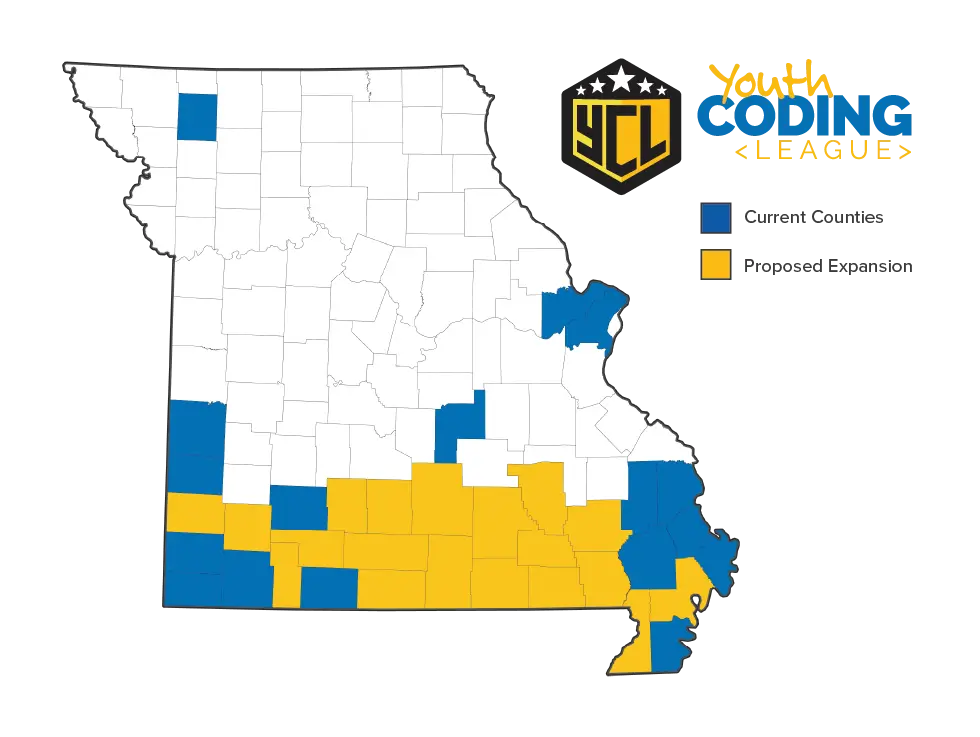 The Youth Coding League2 (YCL) launched in the Fall of 2018 out of Cape Girardeau with the intention of helping a handful of schools in Cape Girardeau and Jackson provide coding and computer science education to their students in an accessible way that was doable for educators without technical skills. The program has grown since then to 10 states with hundreds of teachers and thousands of 5th-8th grade students participating each year. YCL focuses on providing access and self-efficacy to all students as they learn the basics of coding and computer science in a sports-team environment, with coders competing on a national level at YouthCodingLeague.com.
$200,000 in state tax credits are available through December, 2023, and the dollars contributed through this tax credit-for-contribution program will directly impact the Southern Missouri Innovation Network3 (Innovate SOMO) service area. Fifteen of these counties are considered persistent poverty-stricken by the Economic Development Administration,4 and 23 have poverty rates 50% higher than the national average.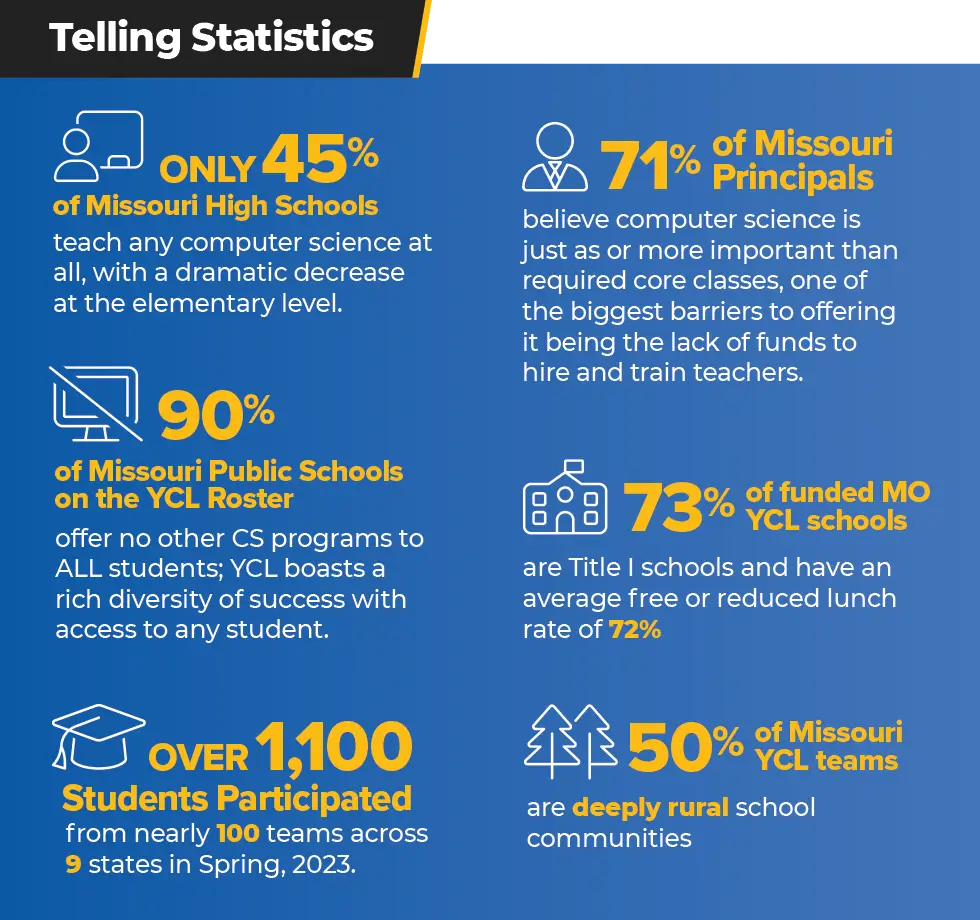 Taking a longer-range view, in the counties impacted by this hopeful expansion of the YCL, the percentage of computer programmers in the workforce is nearly 1/10th the rest of Missouri and the national average.
1/10th. We have an opportunity to positively benefit these communities both now and in the future.
It's all happening in conjunction with a myriad of programming going online through Innovate SOMO. There's momentum, as well as layers of services and programs that will transform southern Missouri.
If you need to round out 2023 with a charitable contribution, or know someone who does, Youth Coding League Director Stacy Dohogne Lane, can answer your questions and help you discern if giving to the Youth Coding League is a good fit for your philanthropic goals.