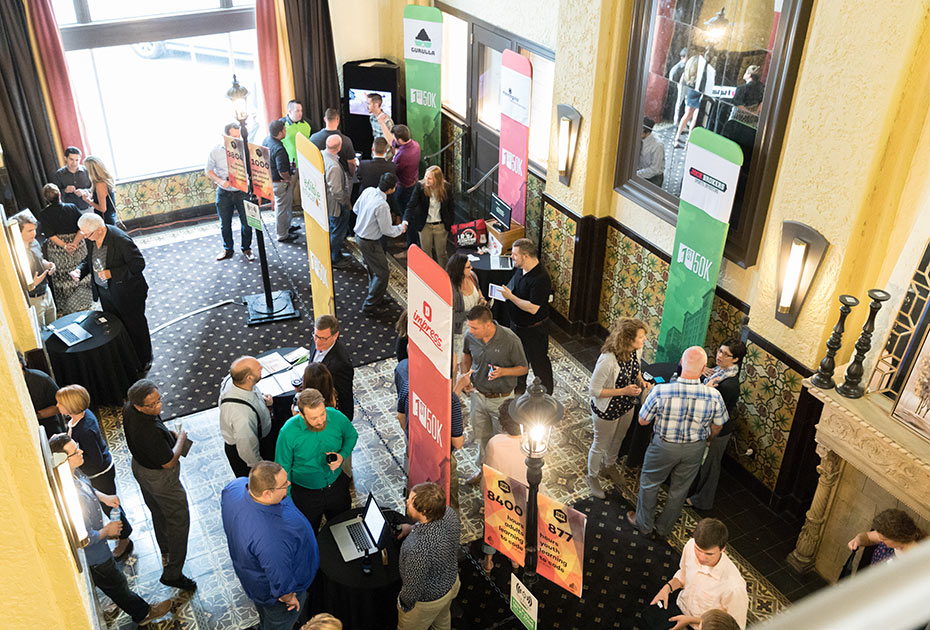 Marquette Tech District Foundation Receives $400,000 in Funding to Grow 1ST50K Startup Competition
March 14, 2018
In a continuing effort to promote technology-based innovators and entrepreneurs in Cape Girardeau, the Marquette Tech District Foundation[1] made its way through the competitive grant process to secure a $200,000 grant from the Missouri Technology Corporation.[2] The grant is matched dollar-for-dollar by local individuals and organizations, and will be used to fund innovative startups that locate their businesses in Cape Girardeau.
"It speaks to the momentum we've created that the state recognizes Cape Girardeau when we're competing with places like St. Louis and Kansas City," said Chris Carnell,[3] program director and co-founder of Codefi.
The Missouri Technology Corporation (MTC) is a public-private collaboration that was created by the Missouri General Assembly in an effort to cultivate and grow new and emerging technology companies, and to promote entrepreneurship.
The 1ST50K[4] startup competition helps startups turn innovative ideas into scalable ventures. Applicants to the competition are vetted through an extensive process that includes multiple rounds of qualitative/quantitative reviews, phone interviews, and feedback from the competition committee to help with the final pitch. Winners receive an equity-free $50,000 investment.
Guidance through Pitch Day is one of the things that makes 1ST50K a unique competition. Most startup competitions judge applicant concepts without providing any feedback during the selection process. The feedback 1ST50K participants receive helps them prepare further for Pitch Day or suggests improvements to their business model.
The competition committee is comprised of local, successful entrepreneurs and business leaders such as Glenn Campbell,[5] co-founder of Hat World, Inc. (now LIDS), and Chris Dittmer,[6] Director of Offering Management for IBM's nearly billion dollar mainframe management software business.
1ST50K is not only a source of funding and guidance, but also an opportunity to receive extensive support from a broad business network. Services to competition winners include mentorship from entrepreneurs and investors, additional opportunities for fundraising, network introductions, and office space at Codefi that fulfills the requirement to locate the business operations in Cape Girardeau for at least a year during the program.
Since the competition was launched in mid-2015 with an initial investment by Traverse Ventures,[7] the competition has received applications from companies representing 31 countries and 39 states across the U.S. There have been $250,000 in awards granted to startup companies that have generated over $2 million in revenue and created 22 new jobs.
For-profit startups from every industry are eligible to apply for the 1ST50K competition. Startups should demonstrate scalability and a plan to reach regional, national, or international impact. Additionally, startups should be able to show progress against the concept (e.g., a prototype, minimum viable product, customer discovery, etc.). Overall, applicants are encouraged to submit unique or innovative business models or ideas that can achieve growth.
The best way to improve your chances of receiving an award? "Show us your progress," says Dr. James Stapleton,[8] Executive Director of The Foundation and co-founder of Codefi. "We invest in startups and entrepreneurs that are already working on their concept, validating their ideas, and need funding to get them to the next progress milestone."
1ST50K is managed by Codefi, Cape Girardeau's coworking space and technology incubator, in partnership with local venture fund Traverse Ventures, the Cape Girardeau Area Chamber of Commerce,[9] and the Missouri Technology Corporation to grow and support local entrepreneurship and the startup economy.
Applications are currently being accepted with a May 31 deadline. Apply to 1ST50K.