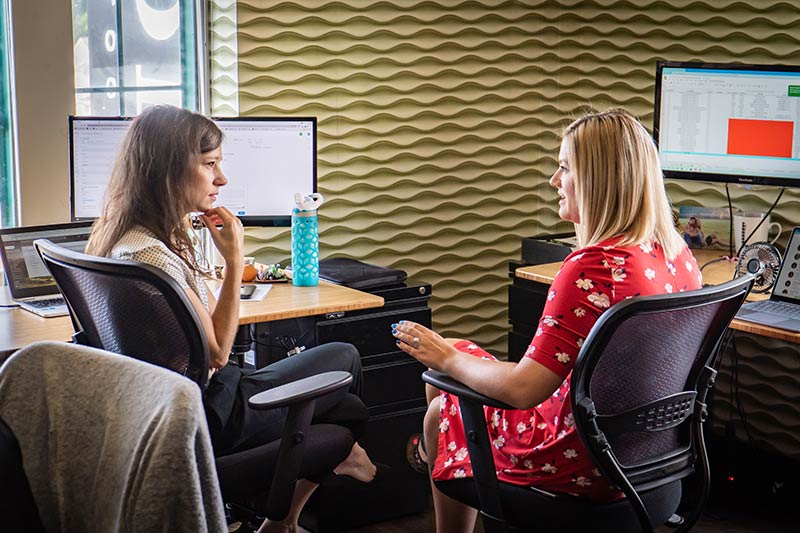 Coworking
Creating success and making each other better.
Join the most creative and innovative coworking space in Southeast Missouri! Get 24/7 access and more perks than you can handle, plus private offices are available for teams of all sizes.
Co-What?
Codefi provides startup entrepreneurs, emerging innovative companies, freelancers, and more with tech-powered, flexible enterprise space, while serving the area with innovative technology education programs and an inspiring community. Plus, the space just looks cool and there's coffee and stuff.
Whether you need a private office with hundreds of square feet or just a chair and a desk, we have it. More than just beautiful workspaces—we're a community combining our collective talents to create success and make each other better.
Memberships
Whether you ride solo, have a growing startup, or you've been in the biz for-ev-errr—get the workspace you need that allows you to focus on your business. Through our different membership tiers, gain access to private office space, meeting rooms, a tech ecosystem, and more. Find what fits your needs.
Office Membership
Private office space for you or your team, plus 24/7 coworking space access and all the benefits and networking opportunities that go along with it! Bring legitimacy to your crazy idea!
Most Popular
Individual Membership
24/7 access to the open space and common areas, along with a staggering number of perks. Available monthly, or sign up annually for a hell of a lot of savings!
Shared Private Office Membership
Want a private office but can't afford it? Enter: Shared Private Offices. Members simply pay $120 extra each month to gain access to a furnished private office that can be shared with other driven professionals.
Student Membership
Exclusive membership for active students seeking a better place to study for online summer classes. Priced at $35/month or $125 for the semester to be able to study in a wonderful atmosphere with speedy Wi-Fi, free coffee, and more!
Day Pass
Let's take things slow, one day at a time. The lowly, but dependable day pass gets you open space and common area access, and can be used Monday through Friday, 8am to 5pm.
Need an office for a few days?
In from out of town visiting in-laws?
Need space to crank out a big project fast?
We gotchu!
Contact Us
Events
Too busy or introverted to attend one of our irresistible events? Think again—you'll be there.
Beyond Codefi
Not local to Cape Girardeau, but need access to tech-powered, flexible enterprise space? Check out some of the other remote spaces and coworking spaces near you.
Sprocket
In December 2021, Sprocket began offering memberships to an expanded, newly built-out coworking space at the Coke Plant in Paducah, Kentucky (with or without access to private office spots), for freelancers and startups.
More on Sprocket
efactory
Based in Springfield, Missouri, efactory's network of programs is designed to support both large and small businesses throughout southwest Missouri. efactory assists everyone, from entrepreneurs looking for 1:1 assistance to large employers addressing workforce challenges, start, scale and succeed.
More on efactory