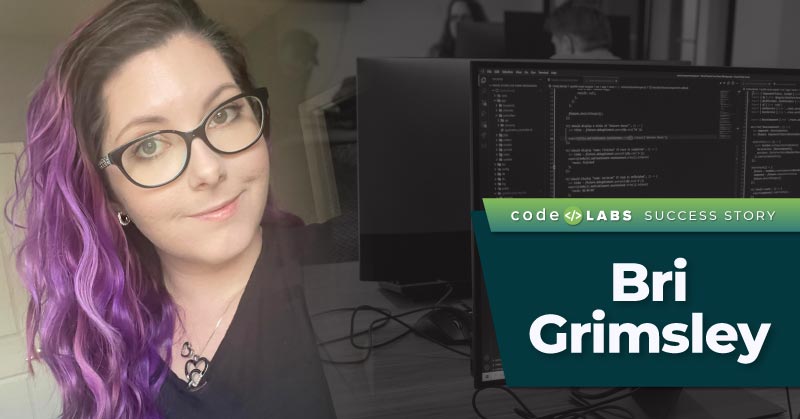 Code Labs Success Story - Bri Grimsley
How Bri's Code Labs knowledge helped her land a role as a Software Engineer
November 14, 2022
Bri started her Code Labs journey in September, 2021, and finished the program in July, 2022.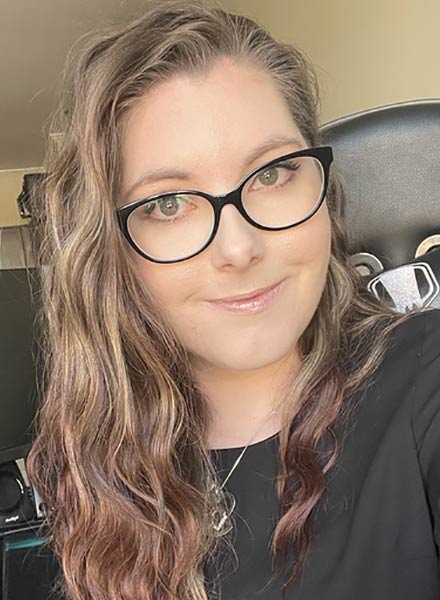 Name: Bri Grimsley
Job Title: Software Engineer at Computer Services, Inc.
Hometown: Panama City, FL
Before Code Labs
Bri1 is a Code Labs2 graduate with a strong desire to make a difference in the world through software development. That's one of the reasons why she enrolled in the Code Labs program—to help further expand her passion and education for computer science.
"Most of my work experience was in sales and sales management, which was a field I didn't have much of a passion for. I transitioned into a technical support position in 2019, but once the pandemic hit, the stress of transition to an at-home support position, coupled with my schedule and workload, left me with very little work-life balance. I decided to invest my time into my education and became a full-time student prior to becoming aware of the Code Labs program."
Bri's Code Labs Experience
After hearing about the Code Labs program and researching what program delivery looked like and what curriculum was taught, Bri decided to apply and begin the admission process. Once enrolled, her Code Labs journey took off immediately.
"My Code Coaches were phenomenal. It was a relief to have support so accessible when I needed it. It gave me peace knowing that I had help available to me, no matter how big or small my question was. Sometimes I would ask for help and the issue was a mistyped word or syntax error, something so small, but I never felt like an inconvenience. A huge part of being successful while learning is feeling comfortable enough to ask questions when you need to, instead of just sitting and hoping you'll figure it out. I was thankful to have that aid during the process."
"My Code Coaches were phenomenal. It was a relief to have support so accessible when I needed it."
Employer partners are fully integrated into the Code Labs program, hosting employer-led capstone projects and paid work experiences, helping further connect trainees to the tech industry, and having the first pick of new digital talent ready for hire. Bri had the chance to put her front-end and back-end knowledge to practice on two employer capstone projects spear-headed by a regional employer, Computer Services, Inc. (CSI).3
"The most beneficial aspect of the employer projects was that I had the opportunity to take a project from need to concept to design to production. We started out with a problem/product gap that the company faced and were given the opportunity to develop a solution and then build it out. The majority of our jobs as software engineers is solving problems and developing solutions, so this process gave us the opportunity to put that into practice and get feedback along the way."
After completing the back-end course, Bri was selected to be part of Codefi's paid work experience program, guided by the mentorship of the Codefi Labs software developer team. She was introduced to two regional tech companies, which gave her two completely different opportunities to put her Code Labs knowledge to practice and also gain new knowledge directly from the Codefi Labs team and the clients she was working with.
"I truly believe the paid work experience is why I was able to progress the way I did in the program and secure my current role with CSI. My mentor during the process was Zach, who was an incredible person to learn from. He is a wealth of knowledge and he was so open in sharing that with me. Both projects I worked on helped me gain knowledge and skills in different areas which I can use daily in my current position. On PumpTrakr,4 I dealt with handling and manipulating data, while Venku5 gave me the opportunity to work directly with the client and build out requested features on a live website."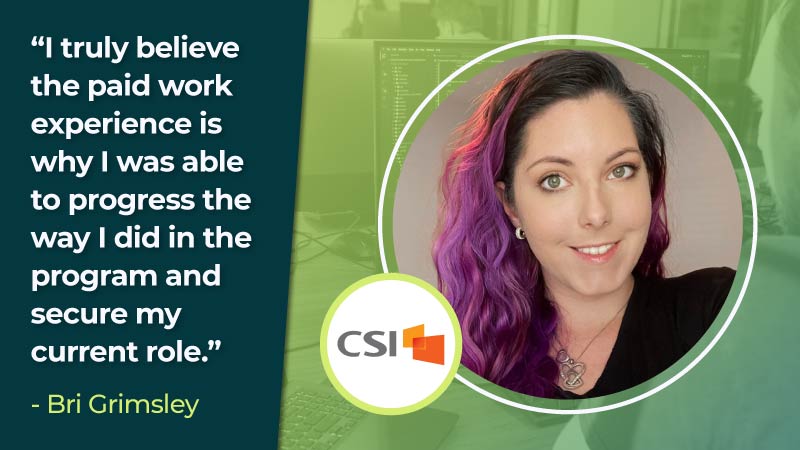 How Code Labs has Impacted Bri's Life
In less than a year, Bri went from being a full-time student to a full-time Software Engineer at CSI, a regional Code Labs employer partner and leading fintech, regtech, and cybersecurity solutions partner operating at the intersection of innovation and service.
"Code Labs has had a huge impact on my life. In such a relatively short time, it provided me the opportunity to get hands-on with my education and design and develop projects that were realistic to job expectations, which is what really sets the Code Labs program apart from traditional education."
"The Code Labs program is a perfect example of 'you get out what you put in,' and with such an amazing opportunity at your fingertips, you don't want to leave the program wishing you pushed just a little harder."
Bri's Day in the Life as a Software Engineer
There's more to being in the software development industry than just coding all day. Software engineers can carry various tasks and responsibilities throughout the day, like team standups, project management, and client management.
"My days begin with daily scrum meetings with my teams, where we discuss current projects and bring up any issues we may need to work through. From there, I go to work on my projects for the day. Those tasks vary and can include working with clients to discuss their needs, building out custom sites and components, implementing new features in internal applications, and managing support tickets that come in. There is a lot of opportunity for collaboration in my current role and a lot of brainstorming that goes into new projects and ideas."
"The hands-on approach, mentoring, real-life projects, portfolio development, and employer exposure that you'll receive from this journey are everything you need to set your life on an entirely different path."
Advice from Bri to Current Code Labs Participants
"Go into each class, project, and meeting with 110% effort. I believe I am where I am today because I treated each project/assignment as if it were a job and I treated each practice interview as if a position were really on the line for me, even when the company was not hiring. The Code Labs program is a perfect example of 'you get out of it what you put in,' and with such an amazing opportunity at your fingertips, you don't want to leave the program wishing you would have pushed just a little harder. You have all the support and assistance you need to be successful, and if you take the projects seriously, you will leave with a stellar portfolio."
Advice from Bri for those on the Fence about Applying
"Get off the fence. There really is no reason to be hesitant about the program. I had my reservations before joining, since the program was offered at no cost to me, but the program is every bit legitimate and can be life-changing if you let it. The skills and knowledge I gained from this program far exceed what I have taken away from the standard higher-education system. The hands-on approach, mentoring, real-life projects, portfolio development, and employer exposure that you'll receive from this journey are everything you need to set your life on an entirely different path."