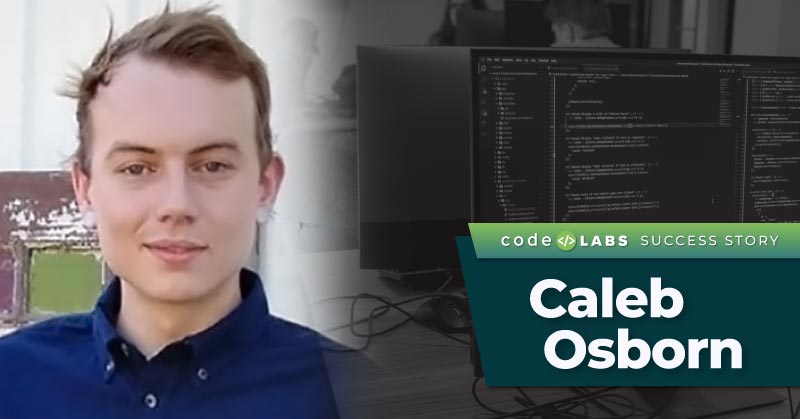 Code Labs Success Story - Caleb Osborn
How Caleb transitioned from serving up food to serving up code with the Code Labs Program
March 19, 2023
Caleb started his journey with Code Labs in September 2021 and graduated from the program in July 2022.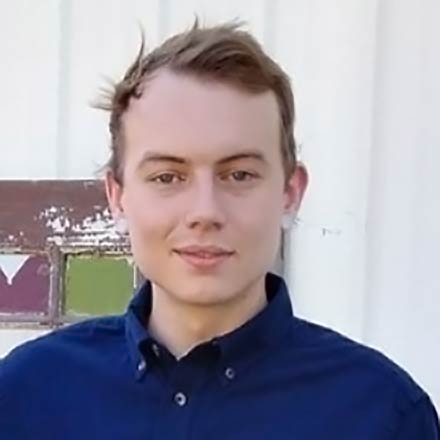 Name: Caleb Osborn
Job Title: Associate Software Engineer at Vizient, Inc.
Hometown: Scott City, MO
Before Code Labs
With self-taught coding skills, Caleb was ready to take his interest in computer coding up a notch after nearly a year of dabbling in YouTube videos at the beginning of the COVID pandemic.
"Originally from Scott City—a small town in Southeast Missouri—I was working every manner of job. Spending most of my time in hospitality, I was laid off in 2020 at the start of the pandemic. With plenty of free time, I pursued coding and programming out of idle interest. I figured, 'Hey, might as well use this time cooped up to learn a new skill and see where it goes.' Then, after a year or so of YouTube videos that were having me build all kinds of things that had nothing to do with one another, I heard about Code Labs1 via word of mouth."
Caleb's Code Labs Experience
"Since I entered the workforce straight out of high school, I had been admittedly a little nervous going back into a 'formal' education environment. Luckily, that anxiety was quickly wiped away when I saw how casual the Code Coaches and other students were. Turns out that in a common interest subject like computer programming, I had a very easy time finding other people who had similar interests and could relate. It allowed for a more collaborative learning space, which I felt greatly impacted my education in a positive way."
"Having the coaches is what makes the program such an enlightening experience. You can spend hours upon hours scouring documentation and video tutorials, but by yourself, it's very hard to actually leave that 'Tutorial Hell.' That is where the experience and knowledge of the Code Coaches come in. Having someone who professionally works in the industry come and teach others how to break into that industry really allows you to focus on building only the skills you will need to land your first job in tech."
"Having the coaches is what makes the program such an enlightening experience."
The last few weeks of the program are focused on capstone projects, sponsored and led by Codefi employer partners across the region. Projects primarily focus on using the languages learned throughout the courses, but also push and challenge the trainees to think outside the box, so oftentimes, they are left open-ended, allowing the participants to come together to code and problem-solve as a team.
"The capstone projects at the end of each section were always a blast. Not only was I making something fun with the new friends I made in the class, but we also got to work with a methodology that really simulated working for a real tech company."
Post-graduation, Caleb was invited to Codefi's paid work experience, led by the mentorship of Codefi Labs software developers. Through this experience, he worked with the Youth Coding League2—another Codefi program—which is built for schools and community organizations to introduce 5th-8th graders to computer science and coding. Applying newly learned skills to meet the needs of the project, Caleb was able to further expand his coding knowledge and work on a team with tech leads mentoring him through the process.
"Even more valuable than the capstone project was the paid work experience. Getting to work on professional code for four months was an experience that really showed me how much I wanted to work in this field. At the time, though, all I could feel was stress. Between the paid work experience, the back-end portion of the course, work, and familial obligations, I felt like I was nearing my wit's end, but I am so glad I stuck it out. Not only did I really enjoy my work experience, but it showed me that I really do have what it takes to excel in this field (as well as a desire to)."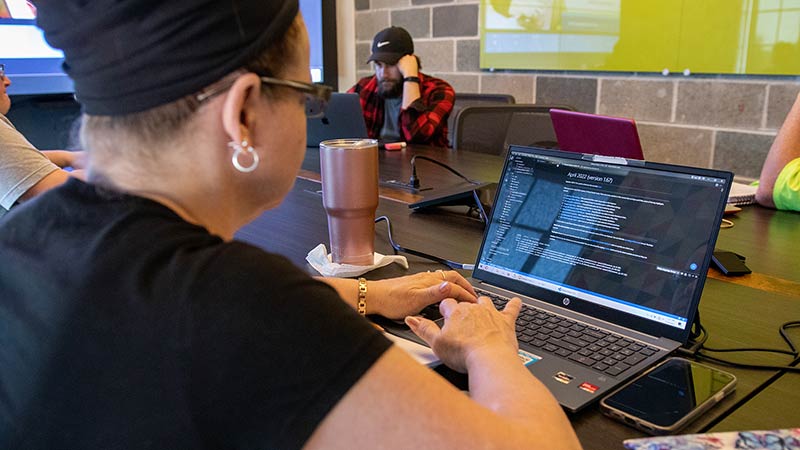 How Code Labs has Impacted Caleb's Life
"The impact Code Labs has had on my life could not be understated. Not only has it given me a clear and attainable career path, but it has also shown me how to teach myself the skills needed to advance in my career. Coding is not the only skill I learned by going through this course; my Code Coach really emphasized how important it is to be able to teach yourself. This job field is always evolving and it is impossible to know everything, so having the ability to sleuth out what it is that you need to know is an invaluable skill."
"Getting to work on professional code for four months was an experience that really showed me how much I wanted to work in this field."
Code Labs helped introduce Caleb to the professional side of the software development industry, equipping him with both the soft and hard skills needed to pursue a career in tech. After Code Labs, he was welcomed as a new team member at Vizient, Inc.,3 the nation's leading healthcare performance improvement company, serving more than 50% of the nation's acute care providers.
"Since graduating from Code Labs in 2022, I was able to get a very good position at a company that has a huge focus on its company culture and employees. Coming from the hospitality industry that uses a more 'revolving door of employees' philosophy, seeing a company not only reach out and say they want me on their team, but also invest a lot of time and resources into the talent that they bring on, felt like a breath of fresh air."
A Day in the Life of a Software Engineer
"The daily life of a Software Engineer can be a hectic one. The ever-expanding landscape of technology means that the amount of things you'll have to learn is ever-expanding. I am constantly reading up on how to complete my next task. In a way, it feels very much like still being in Code Labs (just with a much better paycheck!)"
Advice to Future Students
"There will be times when you will feel like you cannot understand what the words spoken to you mean, or the course is moving much too fast for you to fully comprehend the subject material. That's ok, everyone who has graduated from this program has felt that. Trust me when I say, just stick it out—even if you have to spend extra time reading about a subject, ask more questions than others (which the coaches always appreciate; asking a lot of questions is super important), or you're just faking it until it all makes sense to you. Just stick it out."
"...you just have to give them a little bit of your time and they will give you a skill set that will forever change your life."
"The skills you'll learn are very valuable, especially when it will cost you nothing out of pocket to learn them. If you are on the fence about this program, then let me just say this: by trying the program, you are down only one thing—a little bit of time. It doesn't cost any money to join, you do not need to come from pedigree, you just have to give them a little bit of your time and they will give you a skill set that will forever change your life."
Ready to apply? Learn more about the Code Labs Program and hear from other grads.
Relevant Links