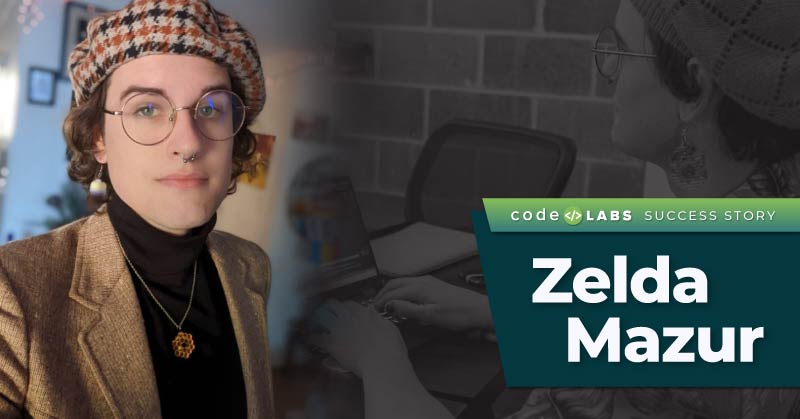 Code Labs Success Story - Zelda Mazur
How Zelda landed a career as a Software Engineer because of the Code Labs Program
October 24, 2022
Zelda started Code Labs in September, 2021, and finished the program in July, 2022.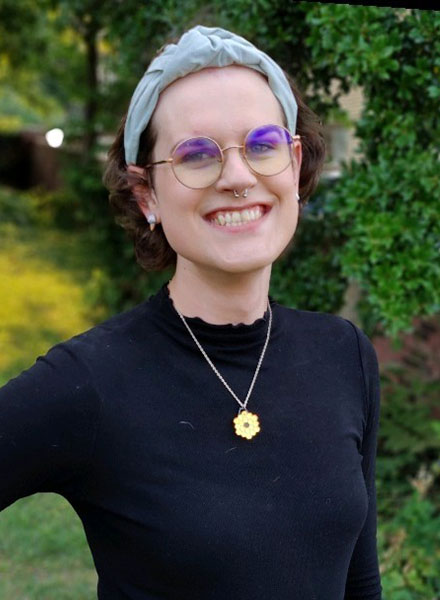 Name: Zelda Mazur
Job Title: Software Engineer at Computer Services, Inc.
Hometown: Campbell, MO
Before Code Labs
"I'm originally from a lil old town called Campbell—completely surrounded by cornfields—but 11 years ago, I moved to Cape Girardeau—also flanked by cornfields, but we have a Chili's."
Zelda is a Code Labs1 graduate who used her passion and background in art and design, as well as her interest in computer coding and programming, to make a new career for herself.
"In general, a lot of my background is in art and design. Oddly enough, because of this, I quickly became interested in Python right before college. I could use Python to automate animations and do other cool s***, but that was about as far as I got with it. I even went in for computer science for a few semesters, finishing my degree in General Studies."
Zelda's Code Labs Experience
After working in the creative marketing agency industry for over five years, Zelda decided to pursue a more fulfilling career that would give her more freedom, the ability to exercise her creativity and problem-solving skills, and the opportunity for continuous learning. Upon completing the Code Labs front-end program, Zelda continued her learning experience with the back-end course, mastering both Angular and Ruby on Rails over the span of nine months.
"The course itself was difficult, and the material was intense, but I learned so much about web development, creating APIs / server-side code, database management, and more."
"I had heard so many good things about Code Labs, so I decided to give it a shot, and BOY HOWDY, my life will NEVER be the same."
Employer partners play a vital role in the Code Labs program, becoming fully integrated into each cohort. They host employer-led capstone projects and paid work experiences, help further connect trainees to the tech industry, and have the first pick of new digital talent ready for hire. Zelda worked with two employer partners during the course of her time in the program—WATT2 and the Codefi Labs team.
"The capstone projects were the most difficult aspect for me. It wasn't necessarily the work involved that was hard, but at first, it was tough working together as a team on one product, especially given how new we were at it. We had to figure out how to delegate tasks to each other and keep each other accountable the whole time, all the while we were all working full-time jobs and balancing this schoolwork."
Zelda was invited post-graduation to participate in Codefi's paid work experience under the mentorship of the Codefi Labs software developer team. Through this experience, she was introduced to working on a custom-built project for the Code Labs program, applying her newly learned skills to meet project requirements while balancing weekly standups and one-on-ones with the lead developer, all while bringing her own skills, expertise, and ideas to the table.
"Luckily, all of this prepared me for the paid work experience through Codefi, where I was an apprentice for four months. I learned even more doing hands-on work, but the time commitment was huge. Not only did I have my full-time job and the schoolwork (this all happened during the back-end portion of the course), but I also had to balance this new apprenticeship. It was a lot! But the time invested into it definitely paid off."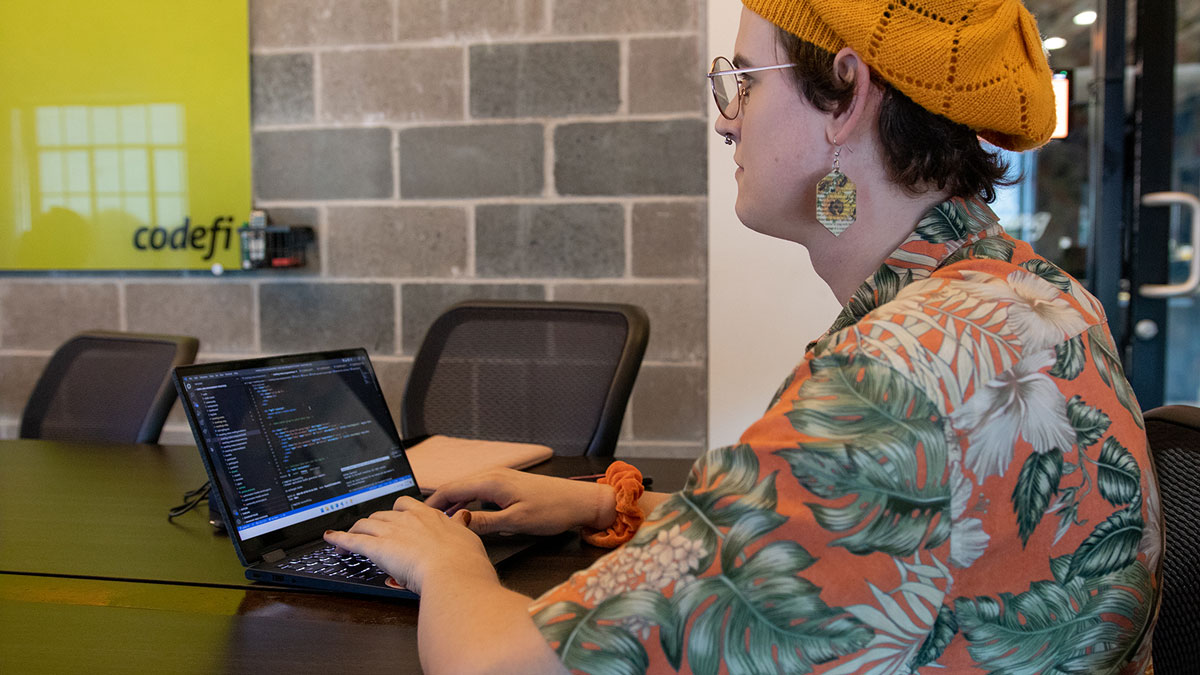 Post-Graduation and How Code Labs Changed Zelda's Life
"Codefi has altered the trajectory of my life in so, SO many ways."
"Despite having a career that was interesting and fun for a long time, Past Zelda knew that Future Zelda would eventually feel like she didn't want to do it anymore. I had heard so many good things about Code Labs, so I decided to give it a shot, and BOY HOWDY, my life will NEVER be the same."
"The best part is that I don't have to wonder about what the future holds anymore because the career possibilities are honestly limitless."
Zelda was introduced to a fulfilling career, giving her long-term opportunities to grow with a grounded company in an industry she enjoys. After Code Labs, she was welcomed as a new team member at Computer Services, Inc.,3 a regional Code Labs employer partner and leading fintech, regtech, and cybersecurity solutions partner operating at the intersection of innovation and service.
"I'm now on a career path with more possibilities than I could have envisioned; contrary to what I first believed, I don't have to give up anything from my art and design days. I can't overstate the importance of creativity as an engineer, because I constantly have to think of creative and clever solutions. Not only that, but when you're working with real products, you have to consider how the user will interact with them. UI / UX is a big part of that, and having a background in it has definitely helped me become a better developer."
Through her work on the CSI team, Zelda mostly works with Angular, C#, .NET, Azure, and MySQL. Most of her day-to-day is spent working with Angular and writing HTML, CSS, and Javascript, and also interacting with databases, reading data from APIs, reviewing code, and more, so making sure she knew the core concepts from a wide variety of technologies has been essential in her job.
"The best part is that I don't have to wonder about what the future holds anymore because the career possibilities are honestly limitless. I get to exercise my love of puzzles and problem-solving every single day, and I wouldn't trade it for anything."
Advice from Zelda to Current Code Labs Participants
"STICK. WITH. IT."
"And practice practice practice! Build your own personal projects. Build projects that suck. Build projects that solve an issue you made up. Build a social media app for lemurs. Build projects that break, fix them, break them again, and fix them again. Keep stack overflow open on three chrome tabs."
"Even if your end goal isn't to be a developer, Code Labs is an awesome way to break into the industry and meet some great people."
"As a developer, you're always going to encounter problems and errors—but then you get to experience the sheer joy of finally solving them. Nothing even comes close to that feeling."
Advice from Zelda to Future Code Labs Participants
"If you're on the fence, just give it a shot! Honestly, you have nothing to lose, and you get to gain a cool new skill."
"There are so many career possibilities in tech that don't even involve coding on a day-to-day basis. Project management, product owner, or UI / UX are tech jobs where you don't code as often, but having foundational development knowledge would help you excel at them. Even if your end goal isn't to be a developer, Code Labs is an awesome way to break into the industry and meet some great people."
"It changed my life, after all."
Relevant Links