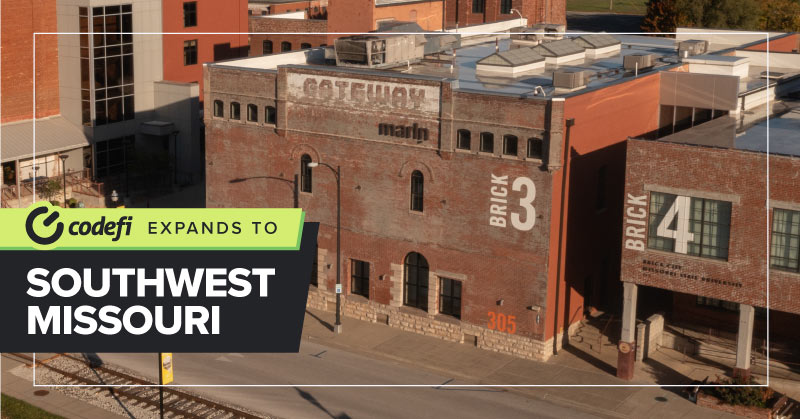 Codefi Further Ignites Economic Growth Through Expansion into Southwest Missouri
July 24, 2023
Our co-founder, Dr. James Stapleton, is relocating to Springfield to lead new teams as we expand our footprint.
We were determined for 2023 to be a breakout year. After years of developing a startup and tech-ecosystem in Cape Girardeau and southeast Missouri, we realized there was a much bigger need and opportunity for us to share in our success and expertise. On the heels of partnering with efactory1 and announcing Innovate SOMO last year,2 we got to work with partners and began going after large funding opportunities to support a regional network that could join forces to develop more digital skills and tech entrepreneurs.
The Need to Grow
Many of the fastest growing careers3 and companies in Missouri are in tech. Throughout the more rural areas of the state, though, the resources and technical services to equip entrepreneurs and workers for these opportunities aren't available.
We've been successful in raising over $6 million from state and federal partners to build capacity for tech-based economic development,4 train a tech workforce,5 support more tech startups and small businesses,6 and increase access to capital7 for Innovate SOMO. Over the next three years, these dollars will be deployed into our region to help us create a more vibrant region. We sure have a lot of work to do.
Today, we're excited to announce our own expansion into the southwest Missouri area by opening a satellite office at efactory's newest office space in Brick City 3.8 James will be relocating to Springfield with his wife, and building teams to ensure seamless implementation of our programs in Springfield and throughout southwest Missouri.
We've seen tremendous demand for our tech startup and workforce programs and services in the Springfield area over the last couple of years. In addition to James, the expanded Springfield Codefi team will include several new positions as well as new members of our tech startup, venture investment fund, and software training teams. What better way to ensure that we build a world-class team and work closely with our partners at efactory to meet those needs, than to lead the efforts with our co-founder, himself!
These teams will begin offering new programs in the coming months, in addition to the continued delivery of Code Labs,9 our adult software training program, and the Youth Coding League,10 an after-school coding education program for 5th-8th graders that's already bloomed into dozens of schools across southwest Missouri thanks to local partners' efforts and support.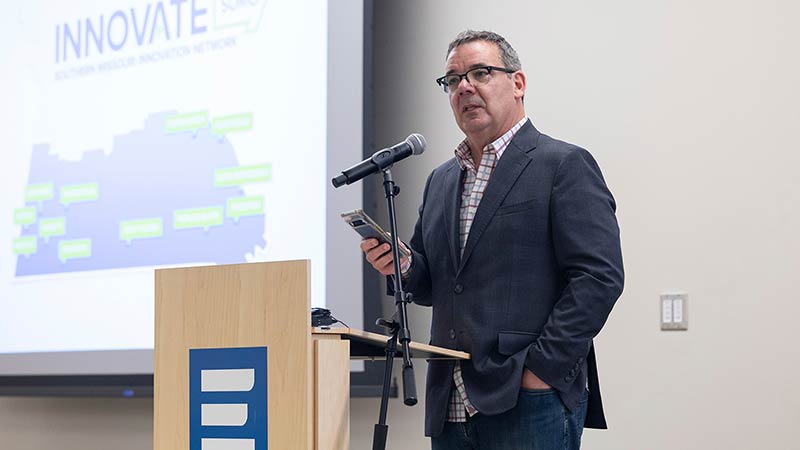 Business as usual
Our continued commitment and further expansion into southwest Missouri will only enhance our ability to continue scaling and strengthening our organization, to close opportunity gaps for more entrepreneurs and talent across the state. The expansion efforts in Springfield will not mean any changes to Codefi's team and headquarters location in Cape Girardeau.
James plans to remain involved in economic development efforts in southeast Missouri, and is committed to working with business colleagues and community stakeholders in our area to continue implementation of the regional economic development plans11 they have created over the past couple of years. Excellent progress has been made, and there is considerable momentum moving forward, so he will continue to add value and contribute as he can.
James is currently the Chairperson of the Board of Directors of Southeast Missouri Regional Economic Development, Inc.,12 a recently reorganized regional economic development organization collaborating with business and community leaders in several counties and cities. Codefi is one of several private business investors in the organization, which includes a $15,000 annual sponsorship. James would like to serve a term as Past Chair on the board, which would begin in January, 2024.
18 Years in Cape Girardeau and the Next Chapter
James and his wife, Stacy, really appreciate the professional and personal experiences they've enjoyed during their time in Cape. Other than their birthplace, they haven't lived in another community this long. But seasons change and they are excited to start another chapter in Springfield.
Before starting Codefi in 2014,13 James was a tenured member of the faculty in the Harrison College of Business14 at Southeast Missouri State University,15 led the development of many entrepreneurship education programs, and was the founding Executive Director of an entrepreneurship center that delivered programs and services in communities across the lower Mississippi Delta region. His wife, Stacy, was a highly regarded and beloved teacher at Jefferson Elementary16 in Cape Girardeau for 16 years.
If you're lucky enough to know James and Stacy, you know they are two authentic people who have given quite generously, often silently supporting efforts and mentoring others. If you're a believer in "leave things better than you found it," then you know Cape has significantly benefited from their time here. As life goes, we grow. We're excited for their next personal journey. And just as James' love of hot rods goes, it's Codefi's next era to Shift into High Gear.17